Inquiries and Donations
Updated May 18, 2020
_______________________________________________
Media Inquiries
If you are a member of the media seeking information, please contact:
Ben Drew
Director, Corporate Communications
(925) 947-5387
Send a message
How can I help?
We thank you so much for thinking of John Muir Health. Your support is critical to the physicians, nurses and clinical and support staff who are caring for our community. To help John Muir Health obtain necessary equipment, please consider giving to the Community Relief/Emergency Fund.
Can I donate supplies to John Muir Health?
We greatly appreciate the many offers to drop-off supplies, equipment and other items from our community. Your donations, combined with our existing supplies, will help to keep our patients, physicians, nurses and clinical and support staff safe.
What We Accept
To be accepted, donations must be in the original packaging and meet our infection control standards. At this time, we are not accepting homemade food.
Priority Supplies to Donate
Masks (N95, Surgical or Isolation)
Gowns (Isolation or Surgical)
Face Shields
Goggles (Non-vented)
Eye Shields
Disinfecting Wipes (Clorox or Sani-cloth)
Hand Sanitizer
CAPR/PAPR Machines and Disposables
How to Donate:
To connect with us directly if you have questions about your donation or to arrange for the pick-up of a large donation, please send an email to JMHdonations@johnmuirhealth.com.
If you would like to drop-off a donation in person, please deliver it to:
John Muir Health Foundation
1400 Treat Blvd.
Walnut Creek, CA 94597
Donation drop-off hours: Monday - Friday, 9am-4pm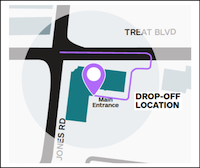 Supplies donated at this location will be used for both of our medical centers (Concord and Walnut Creek) and in our outpatient facilities.
Thank you for your support as we work together to manage the COVID-19 pandemic. Please continue to wash your hands and stay healthy!