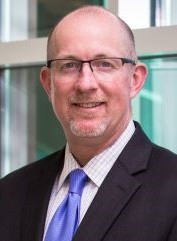 Cal Knight

President and CEO
John Muir Health

Cal Knight joined John Muir Health as President and Chief Executive Officer (CEO) in April 2011.  Cal is a goal oriented advocate for the Mission and Vision of John Muir Health and has helped the organization advance important elements of the Vision, including development of a highly innovative outpatient services model and a streamlined board and governance structure.  As CEO, Cal has worked to create successful partnerships with other health systems and has led the organization through the transformation of its information technology platform (including installation of Epic, a comprehensive Electronic Medical Record).  Cal came to John Muir Health after 16 years at Swedish Health Services in Seattle, Washington where he most recently served as President and Chief Operating Officer.
At Swedish, Cal was responsible for all operations across the health system, including its five hospital campuses and multiple ambulatory care sites. Cal was a key leader and strategist in building a multi-specialty physician organization and in the development of highly-regarded service lines in Orthopedics, Cancer, Cardiovascular, Neurosciences, Women & Infants, and Pediatrics.  Swedish Health Services, which has 1,492 hospital beds is one of the leading health care systems in the Pacific Northwest and has been widely recognized for quality, innovation and service.
Prior to Swedish Health Services, Cal worked at SafeCare Health Services and then at OrNda Healthcare where he served as a Regional Operations Executive, responsible for hospitals and other healthcare businesses in several states.  Cal began his health administration career at National Medical Enterprises where he served as a community hospital CEO in California and then in Florida.
He holds Master's degrees in Health Administration and Business Administration from the University of Iowa, as well as a Master's degree and a Bachelor's degree from Western Washington University.
Jane A. Willemsen

President and CAO
John Muir Medical Center, Walnut Creek

Jane was appointed President and Chief Administrative Officer (CAO) of John Muir Medical Center in Walnut Creek in July, 2006, where she is responsible for the operations of this 330 bed acute care campus and level II Trauma Center. Prior to that time, Jane served as Executive Vice President and Chief Operating Officer at Queen of the Valley Medical Center in Napa, California. In addition, Jane held other positions at Queen of the Valley including Vice President for Support and Ancillary Services and Executive Director of Acute Care and Rehabilitation Services.

Prior to her tenure at Queen of the Valley, Jane worked at the Rehabilitation Institute of Chicago as Vice President of Nursing and Allied Health and Assistant Director of Nursing. Jane received a Bachelor of Science degree in Nursing from the University of Iowa, and a Master of Management degree from the Kellogg Graduate School of Management at Northwestern University in Evanston, Illinois.
Lee Huskins, Jr.

President and CAO
John Muir Physician Network

As President and Chief Administrative Officer of the John Muir Physician Network, Lee is accountable for employer/payer contracting, as well as Accountable Care Operations, contracting and physician alignment. Additionally, Lee is responsible for physician practice operations and all delegated functions from health plans related to Independent Practice Association (IPA) operations, including care management, customer service, physician contracting, information technology, claims payment, compliance, physician relations, and analytics.

Joining John Muir Health in 2006 as Vice President of Operations, his role progressively increased to Vice President of Strategic Operations, and then Chief Operations Officer, before assuming his current role as President and CAO.
Prior to John Muir Health, Lee was Associate Vice President of Operations at Brown & Toland Medical Group. Prior to Brown & Toland, Lee held many positions in consulting, specializing in practice management, information technology implementations and process improvement. Between 1986 and 1996, Lee held several positions in operations and information technology units with Duke University Health System.
Lee holds a Bachelor's degree from Elon University, as well as a Master's degree (MBA) with Health Management from the University of Phoenix.
Michael S. Thomas

President and CAO
John Muir Medical Center, Concord

As president and chief administrative officer of John Muir Medical Center, Concord, Mike is responsible for leading efforts to achieve the clinical, strategic, operational and financial goals of the medical center and John Muir Health. Mike also has responsibility for the development, growth and operations of the Oncology, and Cardiovascular service lines, Facilities Development and Corporate Real Estate, Medical Imaging, and the Behavioral Health Center. Mike is also the executive sponsor of the health system's hospitalist program.

Prior to joining John Muir Health, Mike served as executive officer of VHA West Coast for four years. Before that, Mike was chief strategic development officer/senior vice president at UCSF Medical Center and UCSF Children's Hospital. While at UCSF, Mike was also responsible for the administrative leadership of the Mt. Zion campus.
Mike received his Master of Business Administration in Finance from the Wharton School of the University of Pennsylvania; and a Bachelor of Arts in Economics from Claremont McKenna College. Mike resides with his family in Alamo.