Colorectal Cancer Q&A
with Nancy Schlossberg, BSN, RN, CGRN, CER
Program Director, Digestive Health Services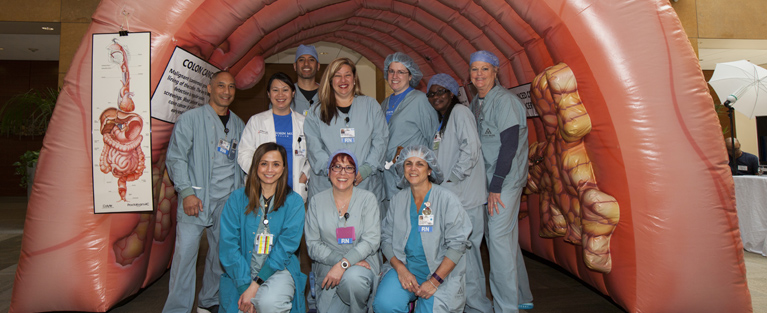 March is National Colorectal Cancer Awareness Month. We use this time to challenge assumptions and misconceptions about a topic most people prefer not to think about, much less talk about. As the nation's first American College of Surgeons accredited program for rectal cancer, we think it's important to help break down the barriers to early detection and treatment. We hope this information prompts you to talk to your doctor about your risk factors and screening options.
What, exactly, is colorectal cancer?
Need more information?
Join us for one of these educational events.

Thursday, March 21, 10 a.m. – 1 p.m., Berkeley Outpatient Center, Third Floor, 3100 San Pablo Ave.

Friday, March 22, 10 a.m. – 1 p.m., Walnut Creek Medical Center, East Lobby, 1601 Ygnacio Valley Rd.

Tuesday, March 26, 11 a.m. – 2 p.m., Digestive Health Services, 1479 Ygnacio Valley Rd., Walnut Creek
According to the American Cancer Society, colorectal cancer is a cancer that starts in the colon or the rectum. These cancers can also be named colon cancer or rectal cancer, depending on where they start. Cancer starts when cells in the body start to grow out of control. Most colorectal cancers start as a growth on the inner lining of the colon or rectum. These growths are called polyps. Some types of polyps can change into cancer over time – usually many years – but not all polyps become cancer. The chance of a polyp changing into cancer depends on the type of polyp it is. Learn about the two most common types of polyps here.
When should I get screened?
Statistics tracked by the American Cancer Society indicate that colorectal cancer is the third most commonly diagnosed cancer and second most common cause of cancer death in the United States. But early detection is making a big difference in those rates. The general rule of thumb is that people at average risk should be screened at age 50. If you have a family history of colorectal cancer, you may need to initiate screenings at age 40 or younger. We encourage you to talk to your doctor about your family history and when to begin screening.
What screening test is right for me?
The truth is, any accepted screening test is better than no screening. And the best test for you is the one you and your doctor choose considering your history, health and lifestyle. Options include colonoscopy, stool tests, flexible sigmoidoscopy, CT colonography, among others.
We consider the colonoscopy to be the gold standard because it can find and remove polyps at the same time. The doctor inserts a long, flexible tubular instrument through the rectum and into the colon. The procedure lasts approximately 30 to 60 minutes and medications are used to help with relaxation.
What should I watch for and what do I do if I suspect a problem?
Unfortunately, most colorectal cancers are "silent" tumors. They grow slowly and often do not produce symptoms until they reach a large size. Many people won't have symptoms in the early stages of the disease. When and if they do appear, they might include things like blood in your stool, diarrhea or constipation or a persistent change in the consistency of your stool, persistent abdominal discomfort like cramps or gas, among other things. Because the symptoms, or lack of symptoms, can vary greatly from person to person, we strongly recommend that you talk with your doctor about the screening that best fits your situation.
Here are things you can do today to reduce your risk:
Eat a variety of fruits and vegetables
Stop smoking
Drink alcohol in moderation, if at all
Exercise most days of the week
Maintain a healthy weight.
If you do suspect a problem, contact your doctor right away. Cancer cells grow over time and can destroy normal surrounding tissue. The five-year relative survival rate is about 90 percent when the cancer is found at an early stage, according to the American Cancer Society. Finding it early also allows for more treatment options.