A New Wardrobe is Just the Start
Do you remember applying and interviewing for your first job? For many, it's an experience that likely elicited at least a little panic. Through a collaboration with Wardrobe for Opportunity, our team is helping high school interns spending this semester at John Muir Health alleviate the stress around what to wear and put their best foot forward.

Melanie Gonzalez, a senior at Mt. Diablo High School in Concord, has her sights set on being a pediatric surgeon. Her internship in the Concord Medical Center Surgical Unit is a great first step on that path.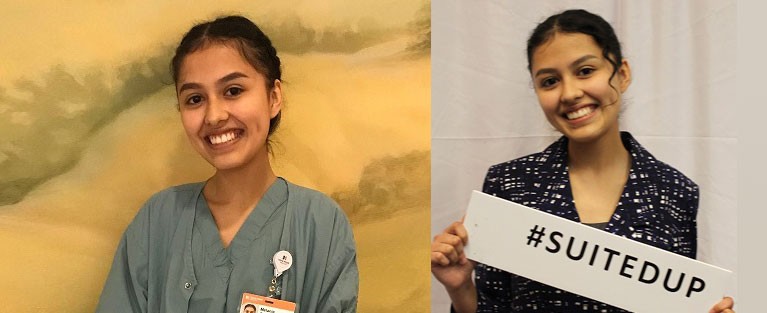 "I'm so grateful for my mentor, Annie Torres. She tries her best to answer my questions and show me the equipment. She encourages me and shares my good news with everyone in the unit."
- Melanie Gonzalez

Anaflora "Annie" Torres has been with John Muir Health since 2000 and currently works as a registered nurse in Concord Medical Center Surgery Services.
"I'm in the Medical Bio-Technology Academy at Mt. Diablo High School and my favorite subject is biology," Melanie said. "I love the hands-on experience I'm getting and the variety of surgeries I get to see. I watched a heart bypass where they took the artery from the leg and put it in the patient's heart – I wanted to help."
Melanie participated in the "Prepare for Success" event that Wardrobe for Opportunity and John Muir Health recently hosted. She and 37 other interns participated in two workshops. They learned how to create online profiles, give a personal "elevator speech," and network professionally. An image workshop taught the interns how to optimize their professional wardrobe and how to present themselves during an interview.

"We teach students about body language. We talk about how important it is to make eye contact and a give a strong hand shake," said LeAnne McCoy, development associate for Wardrobe for Opportunity. "This isn't necessarily knowledge they get in school but it's so central to their success in advancing their dreams."

Talk to the interns and they might tell you the best part was going home with two new outfits, including shoes. For this we thank the many John Muir Health employees who sorted through their closets for skirts, dresses, shirts, suits and anything else a young professional might need.

For more information about our community benefit programs, including career exploration and internship opportunities, please email Community.Benefit@johnmuirhealth.com.