Keeping Your Furnace and Your Family Safe
It's that time of year when we grab a jacket as we leave the house in the morning. The days are short and the temperature drops noticeably at night. This probably means our furnaces are kicking on as we sleep. Carbon monoxide is an odorless, colorless gas produced by gas- and oil-burning furnaces. According to the Centers for Disease Control and Prevention, carbon monoxide claims the lives of hundreds of people every year and makes thousands more ill.




John Muir Health's Hyperbaric Medicine team includes doctors, nurses and technicians who are on call 24-hours a day to treat patients when they need it.

Acute carbon monoxide intoxication is one of 15 conditions approved by Medicare for Hyperbaric Oxygen (HBO) therapy. HBO therapy is a clinical treatment where the patient breathes 100 percent oxygen while enclosed in a hyperbaric oxygen chamber at a pressure greater than the earth's atmosphere. Walnut Creek Medical Center is the only civilian hospital in Northern California that provides emergency HBO treatment for CO intoxication, decompression illness (sometimes called the Bends), and other acute conditions.

According to the Undersea and Hyperbaric Medical Society, "at pressures greater than normal, the body is able to incorporate more oxygen into blood cells, blood plasma, cerebral-spinal fluid and other bodily fluids. The body's natural healing mechanisms can then function efficiently because the damaged tissues are receiving more oxygen. Even when the blood supply has been compromised, tissues can still receive the healing benefits of oxygen from other body fluids and plasma in the surrounding area."

It's important to have your furnace inspected every year and to check CO detectors regularly to be sure they are functioning properly. If you think you've been exposed to CO, get into fresh air immediately and call 911 for emergency medical help. Signs or symptoms of carbon monoxide poisoning include headache, dizziness, nausea, shortness of breath, weakness and confusion.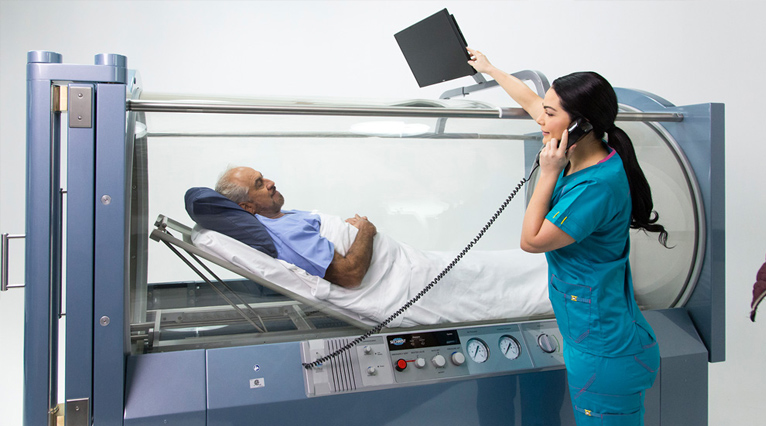 Patients can see out of chamber while receiving treatment. They can even pick what they'd like to watch on TV.