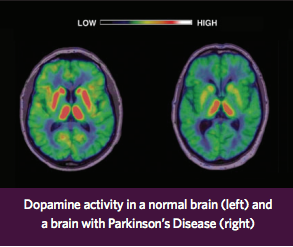 Deep Brain Stimulation (DBS) is one of the latest surgical procedures for treating a variety of disabling neurological symptoms associated with Parkinson's Disease and other common neurological movement disorders. The procedure is used only for patients whose symptoms cannot be controlled with medications.
DBS works by delivering electrical stimulation to targeted areas of the brain that control movement, thereby blocking abnormal nerve signals that cause Parkinson's Disease symptoms. DBS changes brain behavior in a controlled manner and is reversible. DBS does not destroy the nerve cells so it leaves healthy brain tissue intact.
With DBS, a neurosurgeon will use MRI or CT scanning to pinpoint the exact location in the brain where nerve signals are creating the symptoms. A small device that delivers controlled electrical stimulation, called a neurostimulator, is surgically implanted near the clavicle. The neurostimulator sends electrical pulses through two leads that are placed in the brain. The implanted system is then programmed to customize therapy for the patient. Over time, patient settings are adjusted as their symptoms change. A portable programming device lets patients adjust their settings within the limits set by their treatment team.
Studies have shown that with DBS, many patients have reported an improvement in quality of life, a reduction in dyskinesia and psychological symptoms, and are able to lower their medications doses.
Conditions treated with Deep Brain Stimulation (DBS) Therapy include:
Parkinson's Disease
Tremor
Dystonia
For questions or to learn more about Deep Brain Stimulation (DBS) Therapy at John Muir Health, please call 925-309-5155
Vicki Goodwin shares how she got her life back when Deep Brain Stimulation was used to treat Essential Tremor.