Because of the wide range of neurological disorders and the different variations in which they may appear, seeing a neurologist who is highly experienced at making an accurate diagnosis is crucial for successful treatment.

An aging population makes us more prone to developing neurological disorders like epilepsy and Parkinson's disease.
At John Muir Health, neurologists can make a diagnosis based on a physical examination and a clinical history, using brain imaging and lab work to rule out other possibilities. We then discuss the available treatment options with you that are individualized and effective in treating your condition. Some of the neurological conditions we treat include epilepsy, multiple sclerosis, and Parkinson's disease.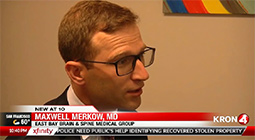 KRON News
Vicki Goodwin shares how she got her life back when Deep Brain Stimulation was used to treat Essential Tremor.

View Video
Epilepsy
John Muir Health treats adults for epilepsy, which are seizures that can be caused by a number of different factors in the brain. Strokes, which commonly affect the elderly, can often lead to epilepsy.
The good news is more than 80 percent of epileptic patients who use anti-epileptic medications are free of seizures with minimal side effects.
Multiple Sclerosis

John Muir Health provides outpatient and neurorehabilitation services for this chronic disease that attacks the central nervous system and primarily afflicts young adults.
Multiple Sclerosis has become profoundly more treatable in the last 15 years, and John Muir Health is committed to providing the most advanced treatment options available.
Parkinson's Disease
John Muir Health provides outpatient and neurorehabilitation services for this movement disorder that primarily affects people over 50 years old.
A diminished level of a brain chemical called dopamine causes Parkinson's disease. John Muir Health neurologists are often successful at treating patients with medications that replenish the missing chemicals. Rehabilitation services are available to provide physical therapy, occupational therapy or speech therapy depending on your need.