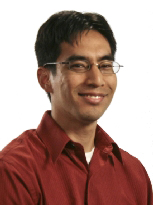 Brian Honbo, MD
Family Medicine
John Muir Medical Group
I have been practicing Family Medicine since 2006. After finishing my undergraduate education at UC Davis, I moved to Philadelphia and attended the Medical College of Pennsylvania-Hahnemann University, receiving my Masters of Medical Science and MD degrees there. I returned to California to complete a UC Davis-affiliated residency program in Modesto. 

I was motivated to pursue a career in medicine because it combined many of my own personal interests including problem solving, teaching, discovering the wonders of the human body and developing one-on-one relationships with people. Every day in the office, I am challenged with these types of issues and they reinforce my decision to be a physician. 
Why did I choose to work with John Muir Health? To my wife and I, John Muir Health represented the delivery of health care of the highest quality to the people of this community. My wife was raised in the area and could not really imagine me working within any other system.  
The primary care medical group to which I belong has a long and amicable relationship with John Muir Health.  I personally benefit from this partnership on a daily basis because I am able to use my energy to attend to my patients' needs instead of worrying about billing, managing staff, budgeting for basic needs in the office, or comparing insurance reimbursements. 
In addition, John Muir Health provided me, as a new physician to the area, with assistance settling into the area and setting up a new practice.  It also proactively seeks out ways to maximize physician reimbursements and passes those benefits on to physician groups. 
One of the most endearing qualities of my office is the camaraderie among the physicians.  I feel free at anytime to ask another clinician in the group for a second opinion and they know I am always willing to offer my assistance should the need arise.  This extends to specialists as well.  All of them have been responsive to a quick phone call for a question or update.
To my patients, their interactions with the staff that handle their bills, keep track of their authorizations, communicate with other offices, and address their concerns are as important as their interactions with their care providers.  As a team, we rely on each other to help run a quality, efficient practice.
John Muir Health is a quality organization.  It is large enough and run well enough to be recognized nationwide every year as one of the best health systems in the country.  It is contained enough for you to be able to acquaint yourself with almost every other provider in the system.  It services the educationally elite, the working class, and the misfortunate in our community. 
My family and I love living in Contra Costa County.  We enjoy the parks, the bike trails, the libraries, the public transportation, the sense of community, and the proximity of our home to other sites that make California unique such as San Francisco, Yosemite, and the Napa Valley.