Transcatheter Mitral Valve Repair with MitraClip®
The only approved alternative to Mitral Regurgitation (MR) surgery.
A less-invasive treatment option for at-risk patients.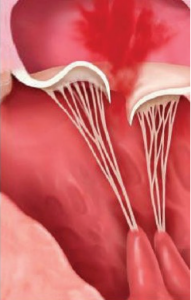 Why repair and not replacement?

Repair retains the heart's natural shape and function better than replacement.
Patients who undergo valve replacement must take blood thinners for the rest of their lives.
A greater percentage of repaired valves are still working after 15 years compared to replacement valves.
Benefits of MitraClip
Elderly patients, those with comorbidities, and other at-risk populations are not candidates for open heart surgery.
The non-invasive procedure has been shown to reduce MR, improve symptoms and reduce the number of recurrent hospitalizations for heart failure.
MitraClip has been used in over 25,000 patients worldwide with great success.
MitraClip at John Muir Health

Our facility provides a comprehensive range of diagnostic and screening tools for identifying MR.
We were among the first hospitals in Northern California to perform this procedure.
The MitraClip® team at JMH is comprised of cardiologists and cardiac surgeons who have significant experience in working with this novel technology.