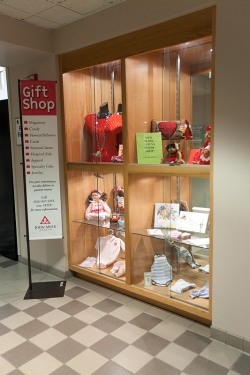 Muir Galleria Gift Shop Hours
Monday to Friday
9:00 AM to 6:00 PM, and 6:00 PM to 8:00 PM, when volunteers are available
Saturday and Sunday
10:00 AM to 4:00 PM, when volunteers are available
Phone: (925) 947-5255
The Muir Galleria (a retail store) is a specialty gift shop located off the lobby of John Muir Medical Center, Walnut Creek. All proceeds are given to the John Muir Medical Center, Walnut Creek Auxiliary to be used to purchase state-of-the-art equipment or outreach programs to serve the community.
If you need something special for a patient being cared for at John Muir Medical Center, Walnut Creek we have many unique items. Gift wrapping is available. With any purchase, you can add a balloon for a small additional fee. We welcome telephone orders and major credit cards.
Flowers
Have a friend or relative in the medical center? We can help brighten their day, with fresh floral arrangements delivered daily, and priced from $9.95 to $59.95. Selection varies with each delivery.  We also carry silk flowers occasionally. Flower arrangements may be ordered by calling the gift shop.
Baby
New baby? We have baby clothing including, Big and Little Brother and Sister shirts, "I was born at John Muir" shirts, and other cute outfits, along with toys and many more baby items.
Stuffed Animals and Toys
Our stuffed animals come in all shapes and sizes: bears, dogs, cats, owls, frogs, turtles, rabbits, dinosaurs, tigers, many more. The Toy Department features a selection of games, coloring books, dolls, die cast cars, and seasonal toys, including animated musicals.
Apparel and Jewelry
Our apparel department carries jackets, dresses, vests, t-shirts, skirts, pants, and sweaters. We also feature accessories including jewelry, scarves, hats, handbags, gloves, socks, and slippers.
Other Gifts
We have an extensive gift department, with items for all ages. Picture frames, seasonal items, hand creams, decorative pillows, tech items and so much more. We carry a wide selection of greeting cards for almost any occasion. Our Sundry section carries personal toiletries, hearing aid batteries, over- the- counter drugs, and cell phone chargers. Turbans are available for those undergoing chemotherapy, and we have magazines and paperback books in stock.
You will find treats for that sweet tooth (if permitted) including an assortment of chocolates, See's, and a selection of non-chocolate and sugar free candy. Snack choices also include nutritious energy bars, bags of trail mix, nuts, cheese crackers, popcorn, water, juice, tea and much, much more.
All descriptions, images, references, features, content, specifications, products, and prices of products and services described or depicted on the Site are subject to change at any time without notice.