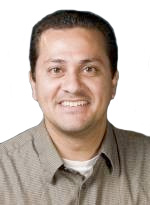 Arseen Soliman, MD
Internal Medicine
John Muir Medical Group
I came to the U.S. from Cairo, Egypt when I was one year old. I grew up in Los Angeles, ultimately becoming a beach fan and enjoying anything and everything outdoors. I did my undergrad at UCLA, medical school at Ross University in the West Indies, and residency at the University of Rochester.

I thought the last year of residency was really fun, but also very stressful. You realize, for the first time in many, many years, that there is a light at the end of the tunnel. But, you don't really know what's past the end of the tunnel.
I decided to do my own job search, using recruiters, searching the ads in medical journals, the usual. Ultimately, it was my brother and sister-in-law, who practice near here, who told me that John Muir was hiring and that the network had a great reputation.
I've been here 7 months, and the start was so memorable. I got to town, and the office manager asked me what time I wanted to start each day, how long I liked for different types of appointments, and what time I wanted my day to end. I decided to work a 4-day week.
I have to say that I'm having fun. My colleagues have a wide range of experience, so senior doctors can give guidance and peers are there for the ride together. This group tends to joke around but be very professional, to have a very nice rapport with each other, and to deliver extremely high quality care.
Things run pretty smoothly. When you're a resident, nobody helps you; you have to do it all yourself. Here, everyone is extremely nice, supportive, and courteous. I don't think it's just because I've graduated, it's the place. And, if there are issues, you can always bring it up, people take it to heart and try to change it.
On top of this, there are a lot of specialties in a small radius. The quality of specialists is very good. I know this because my patients are vocal with good feedback about the specialists, who they have all found quite accommodating.
Because of my desire to do hospital work, I've gotten to know the specialists. Now, I can call while I have a patient here, ask a question, and see if I need to send them over. I actually have specialists sending people to me. Recently, a cardiologist sent me one of his patients — it works all around.
A lot of residents change jobs in the first couple of years. My experience has been very positive. I see John Zuorski (President of John Muir Medical Group) every other month, and he always asks how things are going with me every time. And I feel that there is plenty of room for career growth for me. Again, the organization is very flexible.
I live 7 miles from here; my commute is 10 minutes. My favorite things about living here are the weather and the people. I am really happy and fortunate. I paid my dues and I'd hoped it would end up like this.