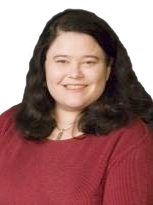 Tanya Threewitt, MD
Family Practice
John Muir Medical Group
I grew up in San Jose and did my residency in Modesto. I went into medicine because I thought I was interested in psychiatry. What I learned was that Family Practice combined my interests and my skills with people with the practice of medicine.

When I was a resident, health care organizations from all over the country-actually, all over the world, would send faxes with job openings. Early on in my education, I expressed an interest in working in the Bay Area, but I was worried about the cost of living. A mentor of mine told me that I should follow my heart, and that somehow I would make it happen. John Muir Health sent a very detailed packet, which caught my interest, so I decided to respond.
When I came to visit, I didn't know anything about this area. Well, I fell in love. It's beautiful, people are wonderful, there is lots of culture in Walnut Creek, and San Francisco is a BART ride away. I live in Walnut Creek, and my commute is 15 minutes. The weather is beautiful, there are so many activities to do indoors and out. It seems like everything is close!
I accepted my offer a few years ago (time flies!), but I asked for some time off to travel. I took the time to go to Australia and had a fantastic trip. I snorkeled, took what they call "bushwalks", got to know the cultures (European and Aboriginal). Mike (Michael Varon, MD), who works here with me, told me to take as much time as I needed before starting. This highlights one of the things I really like. Each office within the group is run how they want. The recruiting is done through the system, but the final decisions, including hiring, are made by the local office. I was really happy to find that this extended to our ability to decide the types of patients in our practice, our philosophy, how we approach medicine, how we use our time, and what we refer out.
I had a 13-year-old girl "shadow" me today, so I was reminded of how much we get to define our practice. We like to see families and kids, and we do as much as we can before referring. This morning, she saw me do a full range-gynecology, pediatrics, internal medicine, geriatrics. She was very excited by the pace, and she wants to be a Family Practice doctor now!
From a financial perspective, everyone seems to have this idea that California is a bad decision. This group mitigates almost all of the nightmare stories you hear. As a pre-partner, I'm guaranteed a salary as I build my practice. There is time for me to get to know people, the community and be very accessible. I am getting new patients through the John Muir Physician Network, 15-20 insurance carriers and even the occasion walk-in! Also, California has led the way in keeping malpractice insurance accessible, providing a national model. Finally, while it's a community-based group, this one is very large. Many doctors think HMOs drive our business in California; however, the size of this group allows us to aggregate reimbursements from HMO and PPO patients, so we really don't feel this effect at all.
I think the greatest discovery for me with this group is that they believe in options. They are really supportive and they let you practice the way you want to. You get a budget, but other than that it's up to you. You make your own schedule, make your own hours. You have the option of doing hospital work or not-I just do it for our kids in the practice.
I feel that this is a discrete community; the type of people who live here are different. That includes this medical community. Specialists are very bright and accessible, more so than where I did my residency. I feel fine picking up the phone and calling with a quick question. Also, we have access to some of the best equipment available-wonderfully unusual for a community hospital. Finally, everyone I've encountered puts the highest priority on the quality of care and shares a value of compassionate care.
I feel like this is a natural evolution in my career. I have been able to see a wide range of issues, and it really makes my training more concrete. I am actually broadening my range, so I'm constantly challenged and learning. A great help to me was that I was assigned a mentor. If anything comes up I go to him. Even if he isn't around, everyone will bounce ideas off of each other. There's a lot of support.
My excitement is to have found a place that works for me. There is a freedom here-you can decide what is important to you and pursue it. It is absolutely acceptable to make choices between money and time, between work and family. And the career growth I am experiencing is really interwoven with the personal growth I'm feeling.
I do a lot of unofficial mentoring and counseling for current residents. One of the things I tell them is that you want to be excited about where you're working, you want to like the people, physicians and staff, and be able to practice medicine the way you want to. If you can find that, you're lucky. You need to go where it's exciting for you. If you're not excited, it's not right for you. This is right for me. I feel very, very lucky.