Inpatient Rehabilitation
Choosing a facility  
Deciding on an inpatient rehabilitation facility can be difficult. We've provided information here that will help you choose the best facility. John Muir Health provides the only inpatient rehabilitation facility in Contra Costa County offering intensive acute care, with certified rehabilitation nurses (CCRN) providing direct patient care, immediate access to surgeons, physicians, and nurses trained in critical care, and a 96% patient satisfaction rating. In addition, John Muir Health's acute inpatient rehabilitation unit has received multiple awards and recognition from accreditation organizations for the quality of our comprehensive program.
Our unit is well situated at a medical facility with Contra Costa County's only trauma center with 24-hour care. If you are considering what the important factors are in choosing a rehab facility, we have prepared a list of questions for you to use that can help you make sure your facility has everything you need. Call us at (925) 947-5252 to meet with one of our intake coordinators. 
A therapy program as individual as you are
Our specialized rehabilitation professionals take a team approach to therapy for patients ages 14 and up. We begin by designing a personalized program, together with you and your family.
For up to three hours a day, we work with you one-on-one to help speed your return to the highest level of function and quality of life. Before you leave, our rehabilitation nurses give you the education and training you need to return to your former lifestyle.
State of the art facilities built to enhance healing
Designed for comfort, privacy and healing, our inpatient rehabilitation unit features 30 private rooms surrounded by a serene environment of colorful gardens and outdoor patios.
You can spend time in the rehabilitation garden, which features a variety of landscapes that replicate real-life challenges.  The garden provides an extension of your treatment where you can safely practice walking up stairs, perform activities that involve balance and improve your motor skills.  You can also use the golf putting green to improve your hand-eye coordination.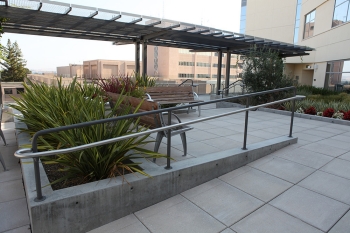 Additionally, we provide indoor educational and therapy programs that use a variety of "out-of-thebox" techniques to improve your physical abilities.  These include pet therapy and "Wii-hab," which uses interactive games to improve your strength, balance and coordination. Find out what to expect from the day you move in until the day you leave.

To learn more about our rehabilitation services, please review this section of our website or download our brochure.
Rehabilitation Awareness
Celebrating National Rehabilitation Awareness Week with patients, therapists and staff.
Stroke Rehabilitation
Vicki shares her story about her rehabilitation journey from a paralyzing stroke.
Refer a Patient
To make a referral or for additional information, please contact the referral development coordinator at (925) 947-5252, Monday through Friday 8:30 AM to 5:00 PM.