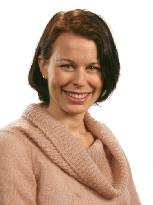 Rebecca Parish, MD
Internal Medicine
John Muir Medical Group
I've practiced medicine as an internist for four years. I studied at U. C. Berkeley, went to medical school at Tulane University, and did my residency at Yale.

I decided to become a doctor because there was nothing else I could think of that would keep me interested 20 years from now. It's still interesting — every day is different.
There are several things that attracted me to John Muir Health: the good location, the competitive pay, a collegial group of peers, and a varied patient population.
I love the Bay Area in general and Contra Costa County specifically because of the diversity of people who live here and the wide range of cultural and recreational things to do. My family and I make frequent use of the trails, museums, ballparks and beaches that are all fairly close by.
I also work with a great group and I'm happy to have people who are approachable when questions arise.  John Muir Health provides a very supportive environment.
Some of the ways my practice has benefited from John Muir Health has been through the management of staff, resources, and assistance with education. Our patients get to know the staff with whom we work and they really become part of the care team — they know the person who picks up the phone, assists with their vaccines, gets their EKG. The patients benefit not just from my care but the care of the staff as well.
The real advantage to John Muir Health is that it offers a balance of group support and flexibility, as well as relative autonomy for the physician. I think the key is that John Muir Health provides the best of both worlds from a management perspective: the group manages staffing and resources for you (unlike private practice) but also allows for flexibility in practice interests and styles.