Team Based Care
During the TBC rotation, residents are integrated into the Family Medicine Residency Practice (FMRP) healthcare team. They experience a high functioning inter-professional healthcare team and a learning environment characterized by team engagement, learner engagement and patient engagement.
Residents provide comprehensive, culturally humble, and compassionate primary care services to patients of all ages and all walks of life. They receive "real world" training and supervision with focus on comprehensive, sustainable, efficient and equitable care. As a team we are committed to achieving the quadruple aim of health reform in the FMRP, which includes: better health for patients and their families, improved patient experience, more affordable costs, and improved work life of health care providers.
The behavioral health curriculum is embedded primarily within the Team Based Care rotation. The goals of the behavioral health curriculum are to work with patients and their families across the life cycle to support their psychological well-being. Highlights for the behavioral health curriculum during intern year includes 1:1 observation and coaching, Wellness Workshop facilitation, and video review. Dr. Froude, behavioral health program manager, shadows each resident for two half-day clinics during TBC and provides coaching for patient-centered care skills and efficiency. Residents co-facilitate the FMRP's weekly Wellness Workshop, a therapeutic treatment group for patients with mood disorders and other mental health concerns. There is also time set aside for residents to review their video-recorded patient encounters with Dr. Froude to discuss communication style, patient-doctor relationship, and therapeutic style. Additionally, residents' cross-train with medical family therapy trainees, engaging in integrated visits and warm hand-offs during clinic times.
Residents have two TBC rotations (6 weeks each) as a first year resident, TBC-1 and TBC-2. Residents are scheduled in clinic four to five sessions per week. When not in clinic, residents are engaged with other members of the team providing in between visit care, doing panel management and inter-professional consultations.
Goals and Objectives:
The resident will begin the development of his/her/their own patient continuity panel and his/her/their professional identity as a family physician.
The resident will experience team based care as a model to sustain the family medicine principles of access, continuity, comprehensiveness, care coordination and patient-centeredness.
The resident will progress in competence to provide broad spectrum primary care services, including office procedures, to all age groups.
Location(s): Family Medicine Residency Practice
Distance from Family Medicine Residency Practice: 0.0 m
Team Based Care Sample Schedule, Education Experiences:
| | | | | | |
| --- | --- | --- | --- | --- | --- |
|   | Monday | Tuesday | Wednesday | Thursday | Friday |
| AM | Team Based Clinic | Team Based Clinic | Coached Team Based Clinic | Narrative Medicine and Group Growth | Team Based Clinic |
| PM | Care Coordination / Home Visits | Wellness Group Visits | Consult / Panel Management | Workshop | Panel Management |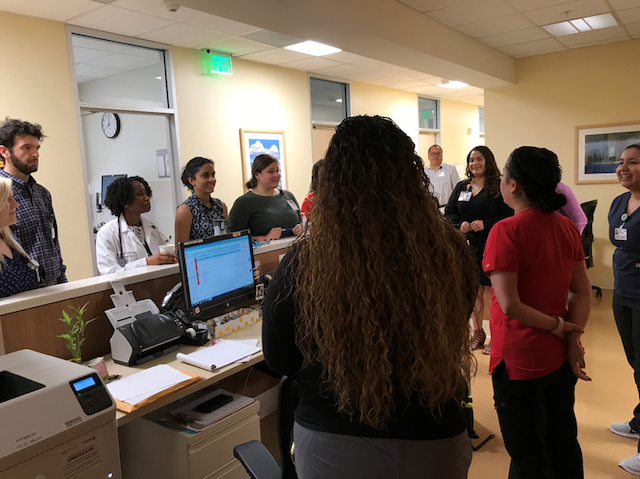 Medical Assistants, A. Arteaga, R. Zamora and E. Ramirez run the morning Team-Based Care huddle with faculty, residents and all clinical staff.